Burnin' Hell

Mallet

1:30

Evil

Mallet

1:30

Into Heaven

Mallet

1:30

She's So In Love

Mallet

1:30

I'm On The Run

Mallet

1:30

Feelin' Good Tonight

Mallet

1:30

I'm Missin' You

Mallet

1:30

Searchin' For A Hero

Mallet

1:30

I Love You For A Lifetime

Mallet

1:30

Flyin' Like An Eagle

Mallet

1:30

Livin' Without You

Mallet

1:30

Why Don't You Give It Up

Mallet

1:30
STORY
We always wanted to record the old Mallet shit. Maybe not good enough for a company, but still kickin' ass. We love it and we hope you too.
To all our fans. Keep rockin' & trust in R&R Recorded live in the Spritzehaus Frankfurt/a.M. (Germany), 9th and 10th of July 1993.
LYRICS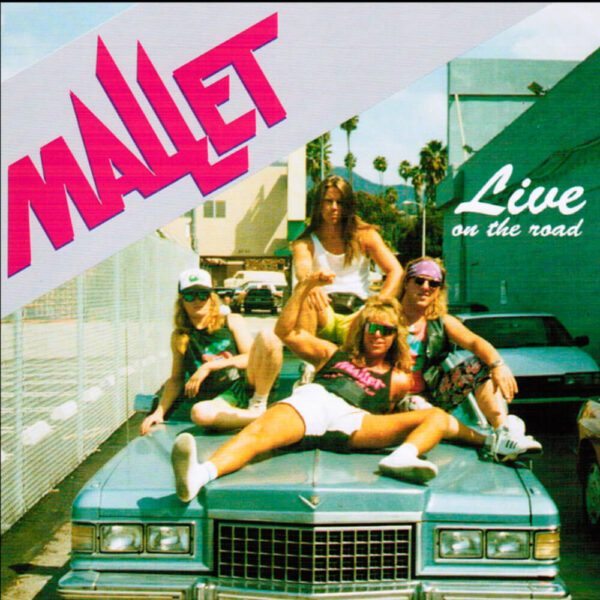 Live on the road
Jürgen Rehberg: lead vocals & guitar
Simon Simonson: lead guitar & stage diving
Manne "Dirty Dee" Dünzl: bass, R&R vocals & harmonies
Jacky Voutay: timing, drums & harmonies
Recorded by Markus Teske Basement Roadworks.
Mixed in the Basement Studio Wiesbaden | Germany).
Mixed by Markus Teske & Mallet.
Produced by Mallet.
Album artwork made by Doris Müller.
Pictures: front cover: Olaf Kreker
live pictures: Todd Garoutte others: Heike Büro
Mallet likes to thank:
The Spritzehaus GmbH & Christoph for support and help. Heike (Helldriver) Büro. Dr. Drum, Wiesbaden for special prices & bills. The Home Family & Wolfgang Stamm. Drums Only Frankfurt, Mingo + Anselm (thanks for the D & W). Markus Teske. Roko and his boys. Olaf for drivin' us through L.A. Matthias Raue (Tanit). Rudi for pickin' us up. Gerd Vogel, we wish we could play bottleneck like you, guy. Musik Spezial Shop & House of Drums, Wiesbaden. Hybrid Arts (Mike). Tony Torres for radio voice ('ey dude, you're too old for the Simpsons). Jay Bolan & Bobby Kimball, L.A. Harmonies. Gregg Bissonette. Vai Garay forteachin' us where north and south is, sorry about what happened. Brauer Rentals & Drum Doctor Russ Garfield. Ocean Way and Record One studios L.A.. The MC Lawmen Frankfurt Brillo, Olli & Tommy. You're the badest guys in town, by the way thanx for lettin' us do the video in your hut. Last but not least the Garoutte family, you always made us feel like bein' home, ('ey Todd say hi to Ed).
Jacky likes to thank: Chris and her family, the Voutay family, Marc, Andre and all my friends everywhere in the world. Mingo & Anselm Drums Only Frankfurt. (The D&W was great). Manne for getting me started in Germany.
Simon likes to thank: Libby's Musikladen.
Jürgen likes to thank: Veronika, the Rehberg family, Power Jimmy's, Tom's Guitar Shop.
Manne likes to thank: Doris ( now it's true, you can listen to your song wherever you are). Erik (you're the best salesman I ever met; in love, Daddy.) Elfi und Andreas Dünzl, Eva & Thorsten. Jim Beam for gettin' in trouble with the cops. God for keepin' my voice alive after 20 million hours of drinkin' and smokin'.
That's all! See ya on the road!