Intro

Mallet

1:06

Into The Fire

Mallet

1:30

Fantasy Is What We Need Today

Mallet

1:30

Welcome Mr. Jesus

Mallet

1:30

Shine On

Mallet

1:30

Say Yeah You Like It

Mallet

1:30

Girls Got The Fire

Mallet

1:30

I'm Coming Home Tonight

Mallet

1:30

Out Of My Mind

Mallet

1:30

Poor Boy Shuffle

Mallet

1:30

Yes Or No

Mallet

1:30

Waitin' In The Night

Mallet

1:30

Right On Time

Mallet

1:30
@ SPRITZEHAUS FFM
LYRICS
Emergency – the sirens wail
there was no warning
danger overnight
Explosions – all over the place
unknown desaster
nobody's used to fight
Into the fire
Now your land's at war
for nearly two more years'
too much blood has flown
too many tears are gone
Now you're used to fight
but do you think you're right
the bloody front's still there
those bloody sins ain't right
Into the fire – you're gonna burn
don't play with fire – you gotta learn
Yesterday's gone
that cannot be undone – forever
you missed your chance to turn
now is the time to learn – forever
Pray to god, pray for release
pray for love and peace
Let freedom win, please stop that sin
'cause life's no give away
Into the fire * you're gonna burn
don't play with fire – you gotta learn
Into the fire – don't feed
the flame war is a liar – it has no fame
The world is mastered by machines oh boy
it seems to me there's a big lack' of joy
communication breakdown is hip
creative acting is tied by a chip
The world's still turning today
nobody cares in a way
Fantasy is what we need today
to stand all this monkey business
runnin' around in the world – Fantasy
Yes I remember when I was a kid
had lots of fun playing games with the wind
today it sucks, 'cause the games are on the screen
no freedom left beaten by the machine
The world's still turning today
try to change in a way
Fantasy is what we need today
to stand all this monkey business
runnin' around in the world – Fantasy
'91 Saudi Arabia
weapons were guided on screens
'92 in the States
a young boy was killed by playing computer games
'93 Pollution is poisoned
by manuel mistakes
'94 world explodes
by syntax error
Don't you know what we need to survive
Fantasy in ev'ry breath we take
will colour the world
from black into white
Fantasy is what we need today
to stand all this monkey business
runnin around in the world
Fantasy – Fantasy
In god we trust and not in you
tell this holy bullshit to yourself
you preach for money, you preach for gold
leave us alone
You call yourself the redeemer of the world
you're preachin' fuckin' dangerous little lies
and if mankind will trust in what you say
your nation is done, salvation is gone
Welcome Mr. Jesus
welcome Mr. Lie
welcome Mr. Jesus
don't tell me how to die
welcome Mr. Jesus
Every day and every night
they sell your holy shit on tv-screens
your news sounds nice, hell what's the price
your nation is done, salvation is gone
Welcome Mr. Jesus
welcome Mr. Lie
welcome Mr. Jesus
don't tell me how to die
welcome Mr. Jesus
Sometimes it's easy, sometimes it's not
I feel the pain deep in my heart
good times and bad times, sunshine and rain
whenever I need you, I'll call your name
You and I, me and you
what I feel, now I sing it for you
Shine on little star
shine on wherever you are
shine on take my hand
and lead me to the promised land
It's like a dream, I wanna fly
baby I love you, never say goodby
wherever you go, whatever you do,
you'd have to know
I wrote this song for you
Tell me now, we'll stay together
I love you, forever and ever
Shine on little star
shine on wherever you are
shine on take my hand
and lead me to the promised land
I see your light is shinin' bright
I feel your love deep inside
Shine on little star
shine on wherever you are
shine on take my hand
and lead me to the promised land
Me and my woman we get crazy sometimes
we're kickin' boots 'til the morning light'
my baby's kinky got me beggin' for more
every night's a different night, it's never a bore
Here we are another day together
just wanna pump my love into you
baby you know, baby 1 love you forever
Say yeah you like it, yeah you want it
c'mon and turn me on
Say yeah you like it, yeah you want it
you are my number one
Time after time and day after day
crawlin' between your legs, it's time to play
we got the timing and the timing is right
sweat pouring action, our love feels so tight
Here we are another day together
just wanna pump my love into you
baby you know, baby I love you forever
Say yeah you like it, yeah you want it
c'mon and turn me on
Say yeah you like it, yeah you want it
you are my number one
Yeah I like it
really like it
I need some more tonight
Say yeah you like it, yeah you want it
c'mon and turn me on
Say yeah you like it, yeah you want it
you are my number one
Aha – Aha
Rosalia is a sexy child, knows howto make a man go wild
she really turns me on, oh yeah
never miss what Judy's got, tell ya man she is really hot
check it out someday
I know it's time to play, the kind of game I need each day
If I find it, I will try it, get my fill for the day
Girls got the fire
everytime we touch they really turn me on
girls got the fire
one little kiss they keep me going strong
Sexy Lisa is a loaded gun, every night she is on the run
she never turns around, oh yeah
little Susie gives you everything, doin' sex without a ring
and she won't mind, oh yeah
If i find it, I will try it, get my thrill for the day
Girls got the fire
everytime we touch they really turn me on
girls got the fire
I feel it deep inside and gotta let 'em know
Girls got the fire
everytime we touch they really turn me on
girls got the fire
one little kiss they keep me goin' stong
girls got the fire
i feel it deep inside and gotta let 'em know
girls, girls, girls
I counted all the minutes, hours, years
I went through hell in my eyes a lot of tears
my only aim what kept myself alive
the only thing that sweetened all my dreams
was to come home,
was to leave this dirty hole
been locked too long,
like I was dead and gone
But now the time has come,
it's by my side
I can't wait to come home
I'm coming home tonight, after years of blues
I pray to god, I'm falling on my knees
I'm coming home tonight, but I don't know why
it's not the same 'cause times have changed a lot,
but without me
Finally back after 13 years of jail
took a long long time, half a live to be back home
now standing here and I don't know what it is
is it still my home or just another room
feeling kinda strange so insecure
expected much, maybe just a touch too much
I'm coming home tonight, after years of blues
I pray to god, I'm falling on my knees
I'm coming home tonight, but I don't know why
it's not the same 'cause times have changed a lot,
but without me
I went looking for love never found it
and all the time you were right in front of me
seems I always took love a little lightly
ooh you held such a big part of me
Endless nights I dream that I hold you
and I can feel you breathing sometimes
it feels so real when I reach to touch you
and I can feel your heartbeat in mine
and I think I'm going out of my mind
Without you, it's always so cold here
without you, there ain't no summertime
I went looking for love, never found it
and all the time you where right by my side
And everytime I feel myself longing
there's something that I just can't deny
that all this things keep leading me home yeah
to a girl whose known a thousand goodbyes
and I finally have you here by my side
I went looking for love never found it
and all the time you were right in front of me
it seems I always took love a little lightly
ooh you held such a big part of me
Endless nights I dream that I hold you
and I can feel you breathing sometimes
it feels so real when I reach to touch you
and I can feel your heartbeat in mine
and I think I'm going out of my mind
Without you, it's always so cold here
without you, there ain't no summertime
I went looking for love, never found it
and all the time you were right by my side
and all the time you where right here by my sid
Never had a dime or much of a plan nobody ever lent me helpin' hand I'm playing here in a poor boys band
Hey guys, I wanna tell you something no money, but a lot of fun yeah
(na na …) poor boy shuffle
(na na …) rock and roll means hustle
(na na …)
Never been a rock and roll star always singin' in the same old bar I'm rough and mean, a rock and roll machine oh oh yeah
(na na …) poor boy shuffle (na na …) rock and roll means hustle (na na …) poor boy shuffle
(na na …)c'mon let's move your muscle
A poor man's life has got a lot of jive
(na na …) poor boy shuffle
(na na …) rock and roll means hustle
(na na …) let's do the poor boy shuffle (na na …) c'mon let's move your muscle
You leave nothin' but confusion
my mind is ready to explode was your love just an illusion or was it nothin' but the truth
so tell my baby
I like to know
if you love me – if you hate me
so tell me now
what your feelings are about
decide it now
if you stay or if you leave me
you got to tell me now
Yes or no … or no
I'm tired of your hesitation
I wanna know what's going on you gotta make this one decision you gotta make it just right now
so tell my baby
I like to know
if you love me – if you hate me so tell me now
what your feelings are about decide it now
if you stay or if you leave me you got to tell me now
Yes or no … or no
I like to know
if you love me – if you hate me you got to tell me now
Yes or no … or no
Yes or no … or no
Thinkin it's over – our love is a battlefield
when you're touchin' me -1 feel you compare
we're now together – for such a long long time
foolin' him and me – I don't think it's fair
I've been waitin' too long for the time
to tell you our love is not a crime
I've been waitin' too long
I'm waitin' in the night
I know that you're married
now you're keepin' me hangin' on
to the game we play – when he's not there
so I get the feeling – I'll never be number one
I don't want to share
I've been waitin' too long for the time
to tell you our love is not a crime
I've been waitin' too long
I'm waitin' in the night
Shake it up – we re gonna move on down
we're gonna cruise all night tonite
we've got a little time to take a little ride
and time is on our side
let's take our time – it's party time
we're right on time tonite
I'm on your time – you're right on mine
(and) the timing just feels right
Get excited – deep inside
you and me girl
Right on time
right on time
Start it up – we're gonna get on down
we're gonna love all night tonite
we've got all the time – to have a real good time
and we've got the timing right
We're gonna groove it – oh yeah
we've gonna loose it – alright
Can you feel me – deep inside
you and me girl
Right on time
right on time
Manfred thanks:
Erik, Andreas + Elfriede Dünzl, Doris (danke für die letzten vier Jahre), Felix, Friedhelm + Frau, Iris, Cord, Jimmy Barnes (for his great music).
Mario – thanks to:
Beate for her love and support over the years, Sabian Cymbals + Pearl Drums for 1st class tools, M+T Musik in Marburg, especially Hubi Lehmann and Jörg Emmerich for their help, the Steinbruch- Theater- Crew for moral support.
Jürgen – Danke an:
Veronika & Timo "Ich liebe Euch-Shine on", meine Schwester, Mutter, Vater (ich werde Dich nie vergessen) und all meine Freunde.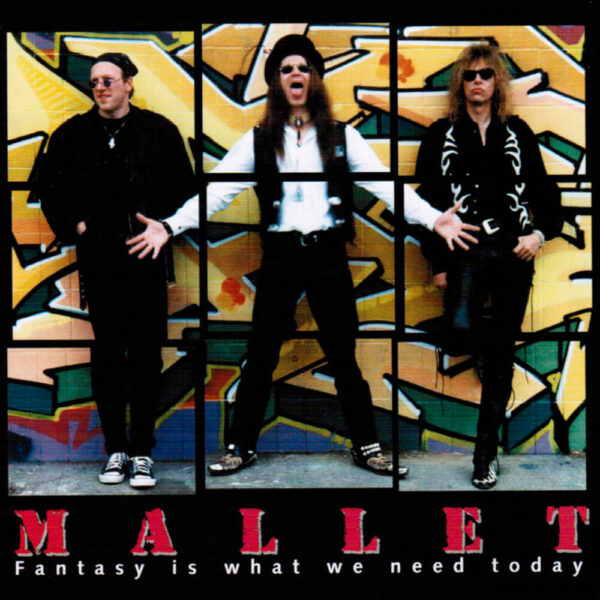 Fantasy is what we need today
Many Mallet thank you (s) to
Recorded @ Roko Soundstudio. Mixed @ Roko Soundstudio, Magnus Krempel (MK-basses), Manfred Pletz, Axel Martin & Family, Michael von Garnier (Hybrid arts/ Focus), Schoko Musik & Volker Teske, Markus Teske (Basement Studio), Dr. Drum, Brillo & Katrin, Christoph (Spritzehaus), Jay Bolan (thanx for your beautiful song "out of my mind" published by Rat dog music/ BMI), Cord Kunze, Vai Garay, Gerd Vogel, Robert Hennrichs, Robert Kohlmeyer (for endless patience), Michi Schmitt (shirts & sax), Martin Gerschwitz (it will be a pleasure for the rest of our lives to hear you playing keyboards on our cd), Julie Clark (shopping with you is incredible), Walter Trout Band (thanx for Martin), Blackfoot (it was great to work with you guys), Mathias Raue (für Sterne des Südens), Markus Grundschok (danke für Hilfe und gute Nerven) Heike, Andy & Gina, Garoutte family, SAD & Klaus P. Sieben, Ute Schallmey, Rudi Döltsch, Jaques Voutay, Simon Sobkowiak, Rainer Fey, Robert & Iris (say hello to Black Label – Cairns we like their music), Tommy (south west tatoo), Olli Schmitt, Brüggemann Family, Porky, Tom Woll, Mc Shirt, Barbara & Heinz (Lehmann- Nold Offsetdruck), Ernst Geschäftsdrucke, Christina Errit (hr), Lothar & Karsten (Palastpromotion), Power gym., Michael Leukel, Tony Torres, Ben van Cauwenbergh and his Ballet- dancers, Hessisches Staatstheater (Ute, Walter, Tom, Hans, Gabriel, Klaus, Sascha, Zyggi, Rodney, Christoph, Petra, Stephan and all the others working on "Rock around Barock"), all the music & biker clubs we played for, everybody who listened to our shows and everybody else we forgot.