What`s The Difference Between Black & White

Mallet

1:30

Roll Mallet Roll

Mallet

1:30

Heaven

Mallet

1:30

I Wanna Be With You

Mallet

1:30

Goodbye, Farewell, Bye Bye

Mallet

1:30

The Right Answer

Mallet

1:30

So Long

Mallet

1:30

Tanz Der Schweine

Mallet

1:30

Passion To Dance

Mallet

1:30

Dideldidoo

Mallet

1:30

Take Me Far Away

Mallet

1:30

Cruisin`Cowboy

Mallet

1:30
LYRICS
What's the difference between black & white ?
What is right or what is wrong ?
There's so many difference shades of grey
Many ways to get along
Just another kid
Tryin to find it's way
Into the jungle life
People tryin to teach
Wanna make you learn
How to grow up and survive
Don't wanna care about what other people say
Too many informations tryin to lead you
Chorus
See it everyday
Many different ways
Be fair we all have to decide
What is right for me
Might be wrong for you
A truth that we all can't deny
You have to care about what people say
Chorus
Solo
What's the difference between black & white ?
What is right or what is wrong ?
There is so much trouble in the world
Why don't people get along
What's the difference between black & white ?
What is right or what is wrong ?
There's so many difference shades of grey
Many ways to get along
Gonna heat her up
Now it won't be long
The pressure shakes the kettle down
Things are getting hot
Let me take you away oh yeah
She used to steam so hard
Runnin down the traks
She used to sound just like a thunderstorm
Now she's passed her time
She looks so fine
And mallet is her name jeah
Old lady ? take take your time
You take real good rest
And I'll go ridin high
Roll Mallet Roll ??
So here we go
It's just another show
We're rockin down the house
Me might be out of date
Old fashioned you might say
Just like the steamin lady oh lady yeah
Takes time – take take the time
But once we roll we're hard to stop
Roll Mallet Roll ??
Heaven, i´m in heaven with you
I'm dreaming, cause I remember you
The sound of your voice
Is still in my ears
I wish you were here
And so many tears
Heaven, I'm in heaven with you
I'm Cryin, rainbow's shinin through
Oh give me a sign and show me the way
To understood, why you passed away
I'm flying, yes I'm flying with you
I'm singin, yes I'm singin for you
Father, father
Father give me a sign
To understood, why you passed away
I'm flying, yes I'm flying with you
I'm singin, yes I'm singin for you
I'm dreaming, rememberin you
I'm in heaven, I'm in heaven with you
I wanna be with you, I wanna be with you
Every day of my life
Just another day
Like every other day
Sittin here wasting some time
I'm watin just for you
Got nothin else to do
I can't help thinkin about love
That's I'm watin for – every day
One sign of love from you
I wanna be with you, I wanna be with you
Every day of my life
I wanna be with you, I wanna be with you
Until the end of my time
I'm waitin just to hear
You knockin at the door
My thoughts are all fading away
I picture you and me
Some kind of paradise
Iwish it would last forever
Sailin away from here – together now
Make all my dreams come true
I wanna be with you, I wanna be with you
Every day of my life
I wanna be with you, I wanna be with you
Until the end of my time
Til the end – of my time
Open up and come inside – join me in my dream
Together we can sail away – today
Chorus
It's time to say goodbye now
I enjoyed the times we had
Heaven only knows
When we will meet again
I know it is amazing
To have a friend like you
It's easier to say hello
Than to say goodbye
I was never much good at bye bye
Take it easy, take it slow
It's time to say goodbye for now
Soo you somewhere sooner or later
Damn good times we had together
Next time we meet will even be better
Goodbye my friend, farewell, bye bye
Life is like a highway
I gotte hit the road
Memories you've given me
Will halp to carry loads
It was an honour just to meet you
Pleasure right on time
I dedicate this song to you
Listen closely, listen well
I was never mushc good at bye bye
Take it easy, take it slow
Chorus
Solo
Goodbye my friend, I gotta leave
See you somewhere
Sooner or later
Farewell my friend, nice to know you
Next time we meet will even be better
It's time to say goodbye for now
See you somewhere
Goodbye farewell, bye bye
When I was young- people tried to tell ma to go
And learn a safe old trade- that pays
Give up your dreams – and don't hang around with the mob
Took some time – to find myself – I'm not makin much
I'm steady in rock
Life is a game – there's no answer
You'll never know – what's goin on
Do what you feel – be a winner
Playin is safe – things will go wrong
Wanna tell you bout the way you know I feel
Everybody's got a talent growing – deep inside
So take your life in your hand
Take your time – security – try to find – no one time
You never find – the right answer
When you don't know what's goin on
Life is a game – there's no answer
You'll never know – what's goin on
(spoken part)
You know what I'm talkin about you'll never find the right answer
And you'll never know, what's goin on right or wrong
There is a man – thinkin he's right – he lost his job – they don't care
Gave up his dream – did what they said – eight hours a day – now
He says:
I should have tiresd – when I was young
To do what I feel – I don't know
Could habe been good
Could habe beenbad – I could have been….
Never know – this was my life
Frustrating time – every day
Just for the pay – take my advice
Roll your own dice – playing it safe
Neever pays
Life is a game – there's no answer
You'll never know – what's goin on
Do what you feel – be a winner
Playin is safe – things will go wrong
You never find – the right answer
When you don't know what's goin on
Life is a game – there's no answer
You'll never know – what's goin on
So long ago since I have been around
The jears gone by – too fast to realize
Now I'm back – I'm walking through the streets
The past returns before my very eyes
All the places all the people I used to know
The frist love – so innncent
So long, so long, so long ago
So long, so long, so long ago
Our house – the place where I was born
It's gone – part of a supermarket chain
The parking lot – used to be a park
I can see us children play again
When life was easy – sometimes a little pain
Some little sorrows – and some big old fun
I try next door – to visit an old friend
The name at the door is gone
Erased by the weels of time
So long, so long, so long ago
So long, so long, so long ago
Solo
So long, so long, so long ago
So long, so long, so long ago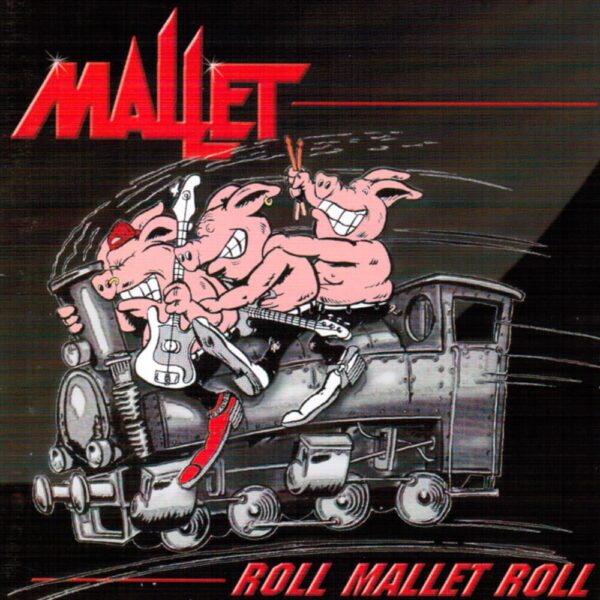 Roll Mallet Roll
All songs written and produced by Mallet
except: Nr. 8 by T.l. Tschaikowsky
Jurgen Rehberg: Lead vocals, all guitars, percussion & keyboards
Manfred Dünzl: Bass guitar & background vocals
Mario Gerhards: Drums & percussion
Special guests:
Piano: Waldemar Martynell (classical piano),
Jochen Kessler (rock & roll piano)
Other keyboards & programming: Markus Teske
Dobro guitar: Gerd Vogel
Background vocals: Heike Büro, Rainer Fey, Young Lee (Opera voice in Heaven)