Long Train Running

Mallet

1:30

I Don´t Wanna Be Loved By You

Mallet

1:30

Some Kind Of Wonderful

Mallet

1:30

Brand New Man

Mallet

1:30

Goodbye, Farewell, Bye Bye

Mallet

1:30

Leaving On A Jetplane

Mallet

1:30

Wish You Were Here

Mallet

1:30

Sweet Home Chicago

Mallet

1:30

Let´s Introduce The Band

Mallet

0:53
ROCK PARTY LIVE
über die Jahre haben uns immer wieder einige von Euch gefragt, " Warum gibt es Rebel Yell, Easy, I hear you knocking oder La Grange nicht von Euch auf CD ? Wir haben uns lange dagegen gewehrt Cover-Songs auf CD aufzunehmen. Meistens sind die Originale sowieso immer das Beste.
Nach über 20 Jahren Live-Performance konnten wir uns das "generve" (GRINS) nicht länger anhören und haben uns doch glatt entschlossen, diese CD hier aufzunehmen.
Da wir eh nie genug Geduld aufgebracht haben uns die Songs genauer anzuhören, sind unsere Versionen sowieso recht eigen.
Wir haben für die CD noch ein paar neuere Songs wie z.B. Mrs. Robinson, Leavin' on a jet plane und L.A. woman ausgewählt und konnten es natürlich nicht lassen, auch noch ein paar eigene Titel aufzunehmen. Wir hoffen, dass nun jeder von Euch seinen favourite MALLET Cover auf den beiden CD´s findet.
Wenn nicht, dann nervt uns einfach weiter. Irgendwann wird jeder mal weich – auch ein Mallet. Vielleicht gibt es ja in 20 Jahren die nächste Mallet Rock Party Live.
Diese CD ist für alle unsere Fans. Nun könnt Ihr uns auch zu Hause live erleben. (Wo auch immer es Euch mittlerweile hin verschlagen hat) Grüße nach Sevilla – Spanien, Schweden, Isle of man, France, Portugal, USA u.s.w.
@ Bürgerhaus Kiedrich
Lyrics
It's time to say goodbye now
I enjoyed the times we had
Heaven only knows
When we will meet again
I know it is amazing
To have a friend like you
It's easier to say hello
Than to say goodbye
I was never much good at bye bye
Take it easy, take it slow
It's time to say goodbye for now
Soo you somewhere sooner or later
Damn good times we had together
Next time we meet will even be better
Goodbye my friend, farewell, bye bye
Life is like a highway
I gotte hit the road
Memories you've given me
Will halp to carry loads
It was an honour just to meet you
Pleasure right on time
I dedicate this song to you
Listen closely, listen well
I was never mushc good at bye bye
Take it easy, take it slow
Chorus
Solo
Goodbye my friend, I gotta leave
See you somewhere
Sooner or later
Farewell my friend, nice to know you
Next time we meet will even be better
It's time to say goodbye for now
See you somewhere
Goodbye farewell, bye bye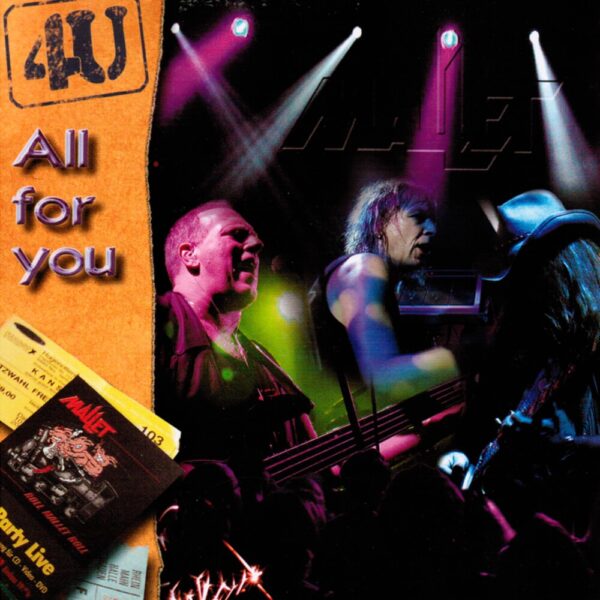 All for you
Achim und Mike Sprunkel – Artworks
Erik Dünzl – Computer repairs
Debbie Phair – Photographs
Joe Wippe! und Crew – Lights and a lot of smoke
Michi Schmitt – Shirts und Backtraps
Live Recording by Markus Teske am 01.12.2001 im Haus des Gastes in Kiedrich/Rhg
Live Engineering by Walter Giebel.
Mixing by Markus Teske – Bazement Studio in Strinz Trinitatis
Live filming by Michael Bux and Crew.
Live Pictures by Debbie Phair and Others.
Cover Artwork by Achim Wüstner and Mike Sprunkel.
Special Thanks:
Bazement Studio (Markus + Chris – Zu Eurer Hochzeit alles Gute)
Michael Bux, Heinz Meier,Heinz-Georg Kuckei, Jürgen Weiershäuser fürs Filmen Porky für seine Stimme. Walter – live engineering
Tickets für Rhein Main, CD-Laden Schierstein,Testbild u. A. – Ticket sales
Jürgen thanks: Veronika,Timo, Leon, Cordula, Katharina-Maria & Udo – I love you all
Mario thanks: Beate …Still after all these years….
Meinen Medizinmännern/-frauen: Michael Lorenz, Uli Schwarz, Frau Roth (Praxis Soehngen) Rosemarie Burkhard, Dr. Hahold in Ffm, Dr. Eil + Ergotherapieteam (DRK – Klinik, Baden-Baden) Wer weiß, ob ich ohne Eure Hilfe heute noch trommeln würde…., Dago + Volker (Steinbruch-Theater, Nieder- Ramstadt) für die Möglichkeit jederzeit üben zu können, Pearl Drums + Sabian Cymbals für super Spielsachen, Christian Koch + M+T Music in Marburg for taking care of me
Manfred thanks: Bonnie (te quiero), Daniel, Erik & meinem Vater Andreas – Hugs and kisses. Grüsse auch an alle meine Freunde Achim, Martina & Thorsten, Todd & Ute, Friedhelm, Rebecca und den Rest des Meier Clans. Chica & Lea – für Training und Schmusestunden. Dem Druckkammerteam Wiesbaden für die vielen netten Tauchgänge und die Möglichkeit endlich ungestört Spanisch zu lernen. Nadja for hairstyling. Michael von Garnier (Hyperactive Audiotechnik GmbH)